---
Newsletter N°15 - February 2020
EDITORIAL
Are you joining us in Switzerland?
Having arrived in a new decade, new opportunities to make the world a more peaceful and democratic place present themselves. Pull up your calendars, because we want you to join us for a busy year.
The recent elections in Taiwan, where we held the 2019 Global Forum on Modern Direct Democracy, underline the power of democracy. On January 11, more than 14 million voters turned out to support those leaders and candidates who have been instrumental in making the island state one of the most participatory countries in the world.
At the next Global Forum, we want to explore even more deeply the practice and future of modern direct democracy. So, from 21 to 27 September 2020 we will be heading to the worldwide hot bed of initiatives and referendums: Bern, the Capital City of Switzerland. This year's Global Forum coincides with Switzerland's 27 September national voting day and participants will have the unique opportunity to experience the final days of campaigning as well as the actual vote!
The 2020 Global Forum conference will offer an in-depth focus on five thematic tracks: Swiss direct democracy practice in a global context, Youth power in the times of climate change, Citizens' Assemblies to support democracy, E-Voting and technology in modern democracy and Global direct democracy via tools for transnational citizens participation.
Now we need your input! We are still looking for people who want to organise a workshop or present an academic abstract covering one of the five tracks at the 2020 Global Forum on Modern Direct Democracy. You can send us your contribution until 15 March here.
We will also be looking at how we can improve democracy on a local level. On 26 September at the close of the Global Forum, Bern will host the 'Democracy City Summit'. If your city would like to join the newly established International League of Democracy Cities, contact us at citysummit@2020globalforum.com.
Last but not least, we want to invite you to join our new online platform, the International Democracy Community at www.democracy.community.
We are looking forward to a new decade of democratic progress - and to seeing you in 200 days at the 2020 Global Forum in Bern, Switzerland.
Democratically yours,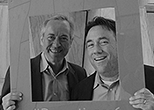 Joe Mathews and Bruno Kaufmann
Board Members of Democracy International and Co-Presidents of the Global Forum on Modern Direct Democracy
---