---
Newsletter N°17 - September 2020
EDITORIAL
The most accessible Global Forum ever
Around the world, people and organizations are adjusting their plans because of the unprecedented health crisis. The Global Forum on Modern Direct Democracy is no exception.
We want you to know that we are changing plans in two ways. We hope you will mark your calendars.
First, we postponed our 2020 Global Forum in Bern until next spring. We hope you can make plans to join us April 28-May 1, 2021, in the Swiss capital. You can register now and learn more details here, at the 2021 Global Forum on Modern Direct Democracy.
Second, we can't wait until next spring to talk, so, to address urgent questions of democracy during the pandemic, we are holding an Online Forum on Modern Direct Democracy this fall. Please join us September 21-29 2020.
This Online Forum, like all our Global Forums, will be free and open to all. We hope that this new digital format will also make it the most accessible Forum we have ever organised. Since 2008, the Global Forum on Modern Direct Democracy has strived to gather people from different backgrounds to share their ideas, knowledge, and experience about democracy. And this year, you can join from the comfort of your own home. Please don't miss it — register now.
Democratically yours,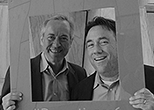 Bruno Kaufmann and Joe Mathews
Co-presidents, Global Forum on Modern Direct Democracy