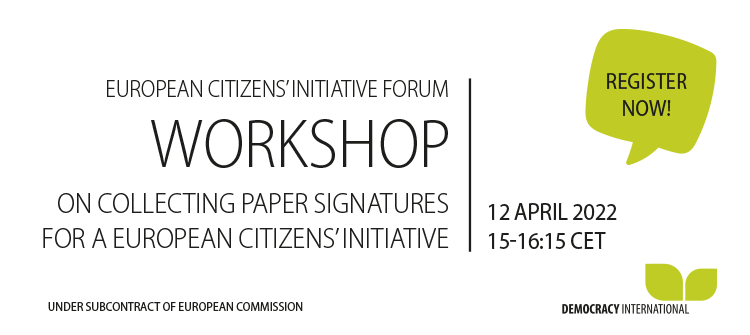 With Covid-19 restrictions slowly lifting across Europe, there will be greater possibilities to campaign for a European citizens' initiative in person and a greater opportunity to collect signatures on paper.
This 75-minute workshop will look at local successful initiatives and their approaches to in-person campaigning as well as review the paper signature collection strategies from former successful European citizens' initiatives. The workshop will also look at the practicalities of collecting signatures on paper as well as offer best practices of campaign websites from successful campaigners.
Speakers include:
- Olga Kikou, End the Cage Age, European Citizens' Initiative
- Balázs Tárnok, Minority Safepack, European Citizens' Initiative
- Ralf Oswald, Campaigner of Radentscheid Aachen
- Federico Alaia, Luca Conscioni Association, Euthanaisa initative, Naples coordinator
Join us on April 12th 2022, 15-16:15 CET to if you are a current or potential European citizens' initiative organiser and would like to gather campaigning advice! Please register below.
European Citizens' Initiative privacy statement providing information about the processing and protection of your personal data