Upcoming Events
Thursday, March 16, 2017 - 17:30
to
Friday, March 17, 2017 - 15:30
Die 9. Aarauer Demokratietage finden am 16./17.03.2017 zum Thema "Die Rolle der Medien in der direkten Demokratie" im schweizerischen Aarau statt.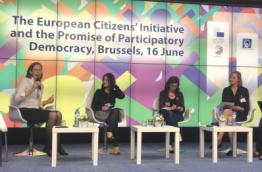 Tuesday, April 11, 2017 - 09:00
Each year the European Economic and Social Committee hosts the "ECI Day" in Brussels. The one-day-conference occurs on the occasion of the launch of the European Citizens' Initiative (ECI) on 1st April 2012.
 
Website Info
Democracy International is a registered association in Germany
(eingetragener Verein e.V.).
Friedrich-Ebert-Ufer 52
51143 Cologne
Germany
Phone: +49 (0) 2203 102 14 75
Fax +49 (0) 2203 59 28 62
Email: contact@democracy-international.org
Amtsgericht Köln
VR-Nr. 17139
Bank
Democracy International e.V.
IBAN: DE 58370205000001515101
BIC: BFSWDE33XXX
Bank für Sozialwirtschaft
Konto: 1515101
BLZ: 37020500