Upcoming Events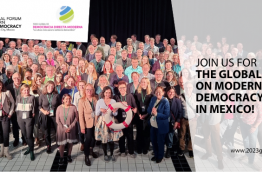 Wednesday, March 1, 2023 - 18:00

to

Saturday, March 4, 2023 - 16:30
In 2023, the Global Forum returns to the Western Hemisphere for the first time since 2012. This forum will take you to the fascinating civic and cultural centers of the hemisphere's greatest metropolis, Mexico City, and will examine what the city-state's new and innovative...
Website Info
Democracy International is a registered association in Germany
(eingetragener Verein e.V.).
Gürzenichstraße 21 a-c
50667 Cologne
Germany
Phone: +49 (0) 221 669 66 50
Fax: +49 (0) 221 669 665 99
Email: contact@democracy-international.org
Amtsgericht Köln
VR-Nr. 17139
Bank
Democracy International e.V.
IBAN: DE 58370205000001515101
BIC: BFSWDE33XXX
Bank für Sozialwirtschaft
Konto: 1515101
BLZ: 37020500