Upcoming Events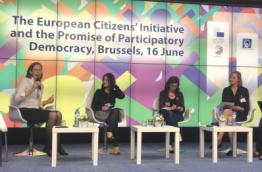 Tuesday, April 11, 2017 - 09:00
Each year the European Economic and Social Committee hosts the "ECI Day" in Brussels. The one-day-conference occurs on the occasion of the launch of the European Citizens' Initiative (ECI) on 1st April 2012. This year's ECI day will take place in the premises of the European...
Website Info
Democracy International is a registered association in Germany
(eingetragener Verein e.V.).
Friedrich-Ebert-Ufer 52
51143 Cologne
Germany
Phone: +49 (0) 2203 102 14 75
Fax +49 (0) 2203 59 28 62
Email: contact@democracy-international.org
Amtsgericht Köln
VR-Nr. 17139
Bank
Democracy International e.V.
IBAN: DE 58370205000001515101
BIC: BFSWDE33XXX
Bank für Sozialwirtschaft
Konto: 1515101
BLZ: 37020500