Congratulations to our seven grantees!
Congratulations to Tosin Victoria Apiriola-Ayayi, Aung Than Oo,Tamuna Beridze, Dion McCurdy, Matthijs Aart Pontier, Greta Rios and Mees van Rees, the winners of the Taichung Grant competition!
After personal interviews with all eleven finalists and intensive deliberation, the jury of our Taichung Grant Competition has selected the young activists and researchers who will receive a travel grant from Democracy International to join the Global Forum on Modern Direct Democracy in Taiwan later this month. Because we received less applications from South and East Asia and due to the high quality of the submissions we received, the jury decided to give out an extra global travel grant of 1000 euros.
The jury consisted of Democracy International Board Members Daniela Bozhinova and Daniel Schily, Achim Wölfel of Mehr Demokratie NRW and Caroline Vernaillen of Democracy International.
"We were very impressed with all of the candidates," says Caroline Vernaillen, "All of them are working on incredibly interesting projects and that made it very hard to come to a final selection. To make our decision, we looked at different criteria such as of course motivation to attend the Forum and the projects that the candidates were working on. But we also took into account their take on what direct democracy means and the number of votes they received during the first round."
"The goal of this competition is also to offer an opportunity to young people who would not necessarily be able to participate in an event like the Global Forum, and to give a platform to a wide range of voices. So it was important to us that we make a diverse selection and include people who have different backgrounds and experiences. We're very pleased to announce the names of the seven grantees and excited to meet them in Taichung!"
The Taichung Grant Competition
The Global Forum on Modern Direct Democracy is the largest gathering of direct democracy activists and experts worldwide and this year will take place in Taichung, Taiwan from 30 September until 5 October. It will be an exciting edition, as we head to Taiwan to discuss the island's recently reformed referendum law and how to transform democracy movements in democracy institutions.
To encourage young activists, researchers and artists who work on topics of direct democracy to take part in this unique event, Democracy International is giving out 7 travel grants for young participants.
The vote for the grant competition is now closed.
You can review the results of the first, voting, round here: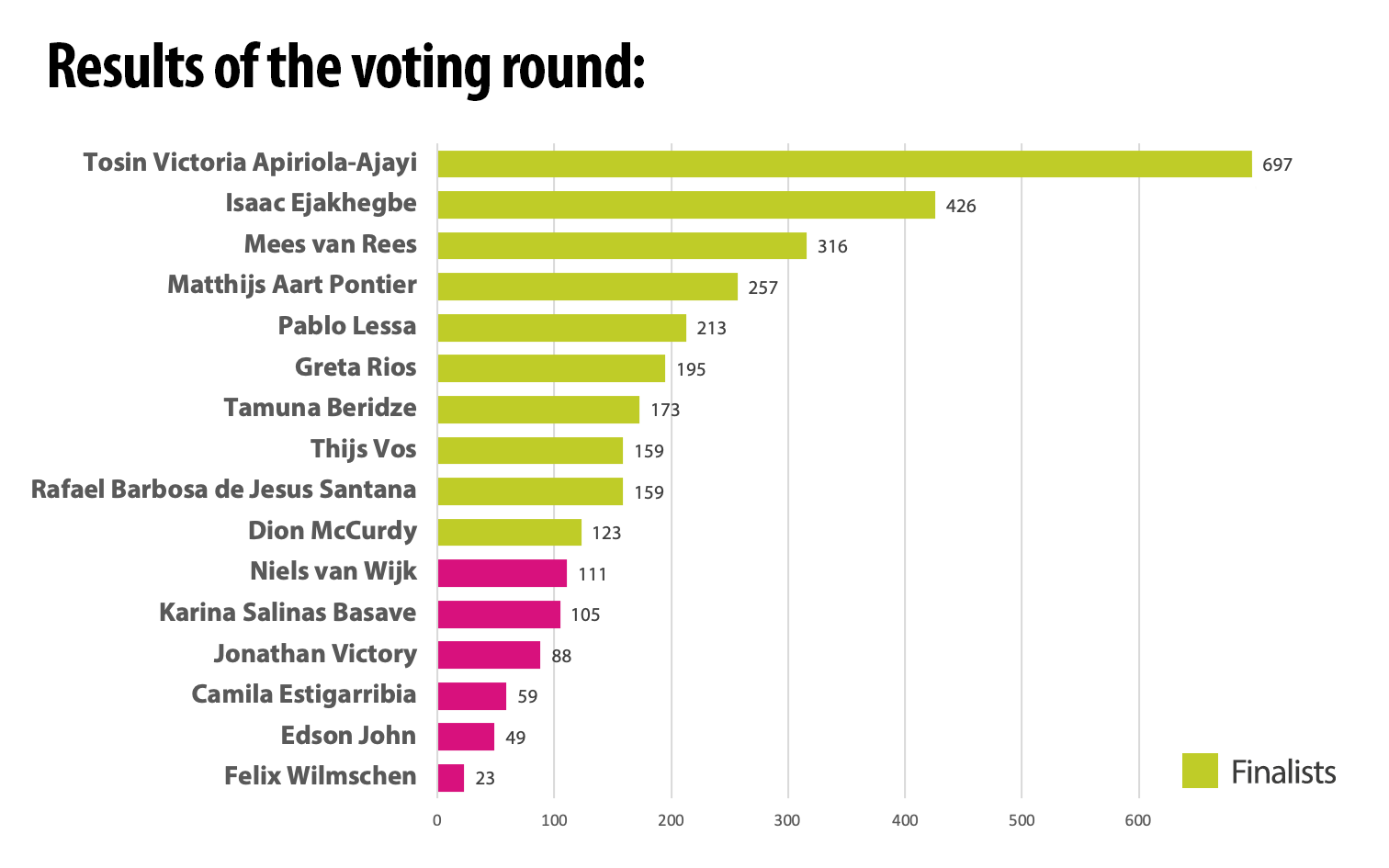 The participants have sent us a short motivation video, explaining within one minute what they are working on and why they want to be part of the Global Forum. You can rewatch their entries below.
Candidates for a global travel grant (1000 €)
Jonathan Victory's statement: 

"As I entered college, Ireland was going through tumultuous political change. The political establishment acting without consulting the public made me examine the democracy I lived in more closely. In the decade since, referendums have delivered profound changes to Irish society. I want to see people all over the world empowered by direct democracy. Attending this conference would make for great contributions to my documentary project on the subject. Whether it's to supplement representative democracy, or eventually replace it, I believe the future depends on direct democracy."

FINALIST: Tosin Victoria Apiriola-Ajayi's statement:

"As a young woman working at the grassroots in North central Nigeria, I have come across first hand what bad governance and 'non-people centred democracy' could mean on the lives of the populace. Direct Democracy to me is people oriented and people centred. It ensures inclusion and accountability all level. Policy formulation and implementation are determined by the people and these have direct impact on their lives.

A lot of policies are not known by the majority of populace in the society today, as these are made on their behalf.

Nigeria, a country with ethno-social diversity will thrive in Direct Democracy."

FINALIST: Dion McCurdy's statement: 

"The current representative democratic model, found in most western democracies, lacks the trust and confidence of its people. It has, among other things, failed to keep pace with changes in society and has become increasingly (and alarmingly) unresponsive to the needs of citizens.

My passion (and NewVote's mission) is to pivot our democracies towards direct democracy, including best practice deliberation, as this is the single most important factor in bringing about a better world. I see digital democracy as the practical, scalable way to make this pivot. From dawn to slumber, I work (without remuneration) to make democracy more democratic."

Felix Wilmschen's statement: 

"The Global Forum in Taichung is a great way to learn about how to better include the youth in policy making on all levels (local, regional, national, international) with deliberative and direct democratic participation forms and the challenge of how to include demands of people movements during all steps of legislative decision making of representative institutions. I'm eager to get answers to those questions from international researchers and activists  in Taichung so I can share it with people of all ages in my community."

 

FINALIST: Matthijs Aart Pontier's statement: 

"I believe that most problems in society, are at the core a problem in power distribution, and that improving democracy is key in solving these problems.

With the Piratenpartij, we initiated direct democracy and participative budgeting. For this, I contacted the 'Citizens Foundation', who already successfully implemented direct democracy projects, like Better Reykjavik. With them, I recently co-founded the social enterprise 'Idea Synergy'.

With 'Meer Democratie', where I'm a board member, we have been campaigning among others for referenda, a directly elected mayor and citizen assemblies.

I hope to get to know more democracy experts and activists and exchange best practices in Taiwan!"

FINALIST: Isaac Ejakhegbe's statement: 

"I have actively worked with organizations that promote democracy, government/citizen engagement. Among others, this June, I actively represented Her Excellency, Mrs. Toyin Saraki, wife of the Nigeria former Senate President in a high panelist engagement at the annual citizen conference in North Central Nigeria, a platform to engage with young people and high-level government officials. Considering my home state will be holding her governorship election is less than a year, there is a concern on possible election violence especially in volatile communities. This forum fits my community and personal interests and be truly involved in what I am passionate about."

FINALIST: Rafael Barbosa de Jesus Santana's statement: 

"I think that direct democracy means freedom, means a society more plural and just, means the possibility of repairing years of history in which democracy and all that is generated with it have been robbed of the great mass of the population."

FINALIST: Mees van Rees' statement: 

"Direct democracy to me means a highly needed update to the archaic system of representational democracy. The democratic right that every individual has to participate in the political proces is insufficiently being facilitated. Part-political systems are fundamentally incompatible with individualistic societies, since it presumes a society in which every individual is primarily a member of one main group. This causes a democratic deficit. This democratic deficit can be accounted for by implementing more opportunities for citizens to participate. I believe that direct democracy offers the best solution to guarantee the fundamental democratic rights of citizens."

FINALIST: Thijs Vos' statement: 

"I firmly belief we need to reenergize our democracies. Power should be more equally distributed and policy should be shapen by all citizens. We need to make politics for all of us again.

That is why I'm fighting for a deeper, stronger and more inclusive democracy. Direct Democracy is key in this. Nationally, I have fought with Meer Democratie to save our national referendum. Locally, I'm working to introduce popular initiatives and digital participation tools in my city.

In Taichung I hope to engage with the world's leading democracy experts and learn from Taiwan's new direct democracy system. Let's exchange best practices."

FINALIST: Tamuna Beridze's statement: 

"Democracy only works best when it enables each individual's voice to be heard and taken into account. Based on my experience, I see direct democracy as the best tool for balancing the interests of the public and environment. While environmental decisions affect coming generations, floor shall be given to wide public regardless age. Direct democracy ensures balancing of gender issues in environmental matters and in most cases helps to find best solutions beneficial both for public and business, yet on the smaller scale. However, I am interested to explore how this can be applied to wider range of public."

FINALIST: Greta Rios' statement: 

"Greta Ríos is a Mexican activist for Democracy. In 2011, she founded Ollin, an NGO devoted to promoting citizen engagement throughout the country. Since then, Greta and Ollin have become strong voices in promoting the power of a strong community and the importance of participation. In 2019, Greta managed to file and win a lawsuit against a local legislation that restricted civil and political rights. Greta is nowadays working with the Congress to make sure the participatory democracy provisions are progressive and in fact protect and promote the right to participate."

Camila Estigarribia's statement: 

"My name is Camila Estigarribia. I am 31 years old and I was born in Buenos Aires, Argentina. I have been living outside the country for more than six years, working on processes of empowerment of popular power and violation of rights with children and youth. My tools are those of popular education and critical recreation applied to educational processes in the territory. I am currently in the Dominican Republic with a project of leading participation of children in their territories, in coordination with the local government to guarantee the right to participate."

Edson John's statement: 

"For me, direct democracy means:  voice, space and inclusion, that is, being able to listen to all the voices of a population for the decision making of a government. For example, in the present century there is a great inequality of the political rights between citizens, for that reason spaces must be created where the participation of historically silenced voices such as youth, women and the LGBT community is allowed and promoted. Only then will inclusion be achieved and democracy will be achieved."

Karina Salinas Basave's statement: 

"I am Karina Salinas, and I preside over the Citizen Participation Commission of the First Women's Parliament of Mexico City. I am sure that in the Global Forum I will find a new vision to return to my city with new strategies to help in the implementation of the SDGs (Agenda 2030) 5, 10, 12 and 16; and rich local governance with a gender, transversal and intersectional perspective.

For me direct democracy is the means to safeguard the right to participate of all people through a culture of peace.

Never Again Without Us in the exercises of Modern Direct Democracy."

Niels van Wijk's statement: 

"As a global marketer I'm passionate about communication, understanding who you are talking to and delivering the right message in the right way played a crucial role in recent elections globally. It has been a key driver for the rise of populist movements. This rise has also been fuelled by social media which is changing the political landscape. I truly believe it can deliver more; social media can be a force for good to unlock a new direct democratic system. I would therefore love to join the forum to find concrete solutions for making direct democracy a global common practice."

FINALIST: Pablo Lessa's statement: 

"I worked with inmates and disable people. At that time, Brazil seemed to go further in a better future. Meanwhile, I took part in projects abroad in Germany, Austria, Israel, Russia and Ethiopia about urban planning, law and democracy. At some point, the country lost its connections to citizens and hate became the leading model in politics. Democracy was shown to be a dream.  So, I decided to change to study Medicine to help people. My will is to give back to people the power to decide and not to be hostage of a government who takes our social rights."
Candidates for the East and South-Asia travel grant (300 €)
 

FINALIST: Aung Than Oo's statement: 

"My name is Aung Than OO from Myanmar--demarcation transition state country. I am now working as a political activist and youth leader for the democracy movement. Also, I am the founder of Myanmar youth foundation for democracy. I work in the promotion of democracy, we mainly target young people by sharing civic education and human rights education up to grassroots level. We are mainly working on checks and balances on government activities and keep watch on the human rights abuse issues by the military."

 

As only candidate in the East and South-Asia competition, Aung Than Oo has also made it to the finals and will be interviewed by our jury.