Content tagged with "Peru"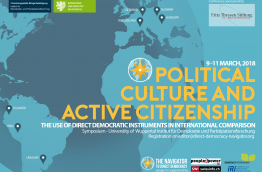 The use of direct democratic instruments in international comparison. With examples from Ecuador, Germany, Hungary, Peru, Slovakia, Switzerland and Uruguay, this symposium aims to create a comparative inventory of the cultures of active citizen participation. 
Website Info
Democracy International is a registered association in Germany
(eingetragener Verein e.V.).
Friedrich-Ebert-Ufer 52
51143 Cologne
Germany
Phone: +49 (0) 2203 102 14 75
Fax +49 (0) 2203 59 28 62
Email: contact@democracy-international.org
Amtsgericht Köln
VR-Nr. 17139
Bank
Democracy International e.V.
IBAN: DE 58370205000001515101
BIC: BFSWDE33XXX
Bank für Sozialwirtschaft
Konto: 1515101
BLZ: 37020500